Sunday, January 14, 2018 View Next Date
5:15PM - 7:00PM
Emmanuel Baptist Church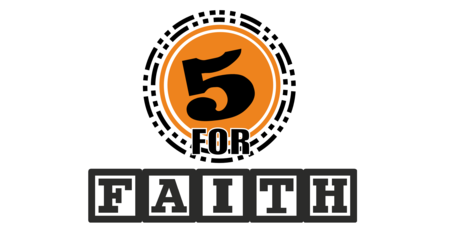 Join us for Five for Faith as we take 5 weeks of electives for growing our faith together. We have an exciting line-up of options for you to choose from, and right in the middle of it all we'll head out to Millar College of the Bible, Sunnybrae Campus where we join with them for the Sunday evening part of their missions weekend, starting with an ethnic meal at 5pm. To find out more about the various electives you can choose from, download and read the PDF at the bottom of this page. Contact Aaron in the church office if you have any questions.
Each week, we'll start off with a potluck at 5:15pm in the gym. Bring along a main dish or salad (enough for your family plus 2 people). We'll wrap up eating by 6pm when we'll have a full hour to get the most out of your chosen elective.
January 21 - Please note we will be heading to Sunnybrae Bible Camp to join with Millar College of the Bible for their missions Sunday. The evening starts at 5pm with an ethnic meal and then is followed at 6:30pm by a missions program. There will be a children's program during the session and also childcare will be provided. If you are taking the bus, it will be leaving the church parking lot at 3:45pm. Make sure you have let us know at the office if you need a spot or more on the bus, thanks.
Click here to see a detailed program for the missions conference: Millar Missions Conference
Available Files to Download
To download, right-click the file and select "Save link as".
Return to Events
Save Event to your Calendar
---